The term 'holy grail' is not to be used lightly. To be a holy grail item is to be the very best for that person; it is, if not the very essence of perfection, pretty effing close.
I am very new to makeup; up until this summer, and my re-entrance into the blogging world, I was only wearing liquid eyeliner, mascara and a bit of concealer under my eyes. So to say these are foolproof, tried and true, "I've used it for years" holy grail makeup, is a bit of a misstatement. Except for the listed liquid eyeliner and concealer.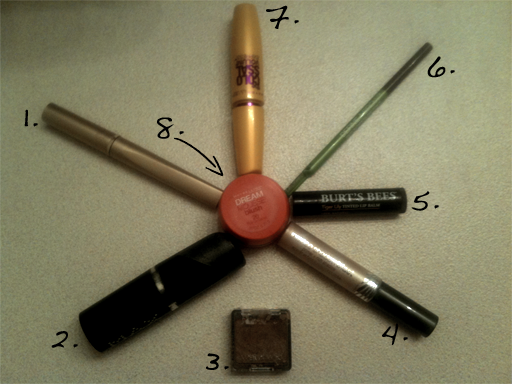 Introducing my
current
holy grail products. All drugstore cosmetics.
1. L'Oréal Lineur Intense Felt Tip Liquid Eyeliner in Earthen Rock Brown
This is a true holy grail of mine, and I consider myself something of a connoisseur of liquid eyeliners (and I fully admit I know
nothing
about makeup). I've used it for years.
2. Max Factor Pan-Stik Ultra Creamy Makeup in Nude Ivory
I snagged this from my mom a few years ago (after she snagged my concealer!) and I love it. It's a foundation, I suppose, and not something I wear all over my face (I rarely wear anything, tinted moisturizer is as close to foundation as I get), but for getting rid of dark circles under the eyes, it works magic. Nothing I own compares to it.
3. Wet n' Wild Color Icon Eyeshadow Single in Nutty
This color is GORGEOUS. It somehow transforms in color, as I apply layers over my eyelid. Everyone has been raving about Nutty, though. Nbd.
4. CoverGirl Intense Shadowblast in Beige Blaze
Picked up this beauty after a review from G at
Nouveau Cheap
. Works very well as a primer for eyeshadow. Fun to apply, too.
5. Burt's Bees Tinted Lip Balm in Tiger Lily
I love love love love Burt's Bees. Love.
6. Maybelline Define-A-Brow in Dark Blonde
Another pickup from
Nouveau Cheap
, after she applauded and
kept applauding
about this eyebrow pencil. It really deserves to be raved about; I have multicolored (brown and blonde!) eyebrows that I hate on most days, so filling them in with this pencil really helps. I also love that it's not too red in color, like a lot of brown eyebrow pencils.
7. Maybeline Volum' Express The Colossal in Glam Brown (non-waterproof)
The yellow packaging won me over, if I were to be completely honest. But the mascara wand is phenomenal and I definitely notice a difference between this mascara and others I have used. This is my third time buying it; I used another mascara in between my two colossals, and quickly went back.
8. Maybelline Dream Mousse Blush in Peach Satin
I LOVE this blush, and can't understand why people haven't raved about it yet (I have heard it's not great for oily skin, but for dry ol' me it's perfect). I have a natural blush to my cheeks anyways, so I don't like a lot of color; this is more of a 'tint' that can be layered, and the shimmer offers a highlight without being ostentatious. I don't always wear blush, but when I do, this is what I grab.